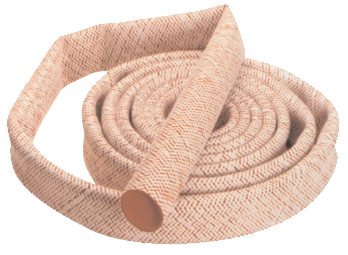 Air Start Hose
Description
Aviation Ground Equipment Corp. Air Start Hose features a specially compounded seamless, non-flaking, silicone rubber tube that withstands temperatures up to 500°F and as low as -80°F and resists solvents, mildew and fuels. Harnessing the power of the starter, it delivers that power at full pressure and temperature to the plane
REQUEST A QUOTE
Specifications
Hose liner is a smooth, seamless, non-flaking specially compounded silicone rubber that withstands temperature up to +500ºF and as low as -80ºF
Hose reinforcement is synthetic yarn for burst strength greater than 400 psi. Resistant to heat, solvents, mildew and fuels.
Note: Construction insures each strand of yarn is integrally lock-bonded to the silicone tube.
Inside Diameter: 3-1/2″
Wall Thickness: 3/16" ± 1/32"
Weight per Foot: 1.1 lb.
High Temperature: +500ºF
Low Temperature: -80ºF
Burst Strength: Over 450 psig
Max. Static Load: 2,000 lbs.
Proof Pressure Tested: All lenghts tested at 200 psig
Lengths: up to 60ft
Options
Replaceable lenoweave or open-braided scuffer jackets extend service life. It provides an extra measure of abrasion resistance and durability by shielding the jet starter duct from the damage that often results from being dragged and scuffed over concrete ramps and runways
Pre-cut lenghts of 20FT, 30FT, 40FT, 50FT & 60FT.