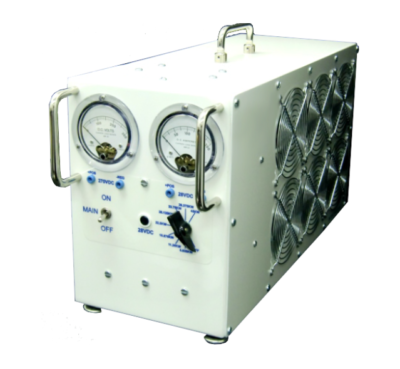 DCLB-270 Portable 72kW 270 VDC
Description
The Model DCLB-270 72 kW 270 VDC Portable Load Bank is designed to provide a temporary load for field servicing and testing 270 VDC power supplies.
This unit is air cooled and completely self-contained.  The load is adjustable from 0 to 72 kW in eight steps starting at 9 kW.  The load bank will operate continuously at full load.
REQUEST A QUOTE
Features
Load steps: 0-72 kW in 9 kW steps
Plug test pins for connecting test leads
270 VDC aircraft receptacle
Meters: 0-300 VDC voltmeter, 0- 200 A ammeter
Power indicator light
Folding top handle
Thermal protection
Carrying case
Dimensions: 22"L x 8"W x 11"H
Weight: 38 lbs.