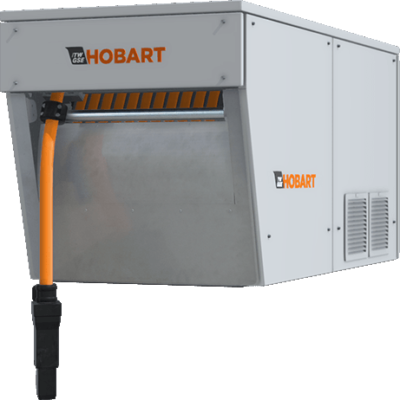 Power Coil 90kVA 115/200 VAC 400Hz Solid State
Description
The Hobart 2400 Power Coil includes a 400 Hz, 90kVA frequency converter with a cable reel all in one enclosure.  The unit provides a simple easy to use cable retriever system allowing the operator can safely stow the cable to prevent hazards on the ramp or in the hanger. The Power Coil uses the latest in frequency converter technology to provide the user with clean 400Hz power at the push of a button. The unit can be operated via the easy to use digital control panel, or through push buttons on the cable head to allow for remote operation. The Power Coil can be bridge mounted as well as stationary mounted for hangar use.
REQUEST A QUOTE
Features & Options
Specifications
Data Sheet
Spares
Features
GPU Output Features
Power: 90kVA @ PF 0.8 -1
Voltage: 3 Phase 115/200V
Frequency:400 Hz +/- 0.001Hz
Protection class : IP55 (NEMA-4)
Cable / Coil
Special Cable guidance system to provide smooth coiling
400 Hz Aicraft cable head with Start/Stop and In/Out push buttons
Specifications
Power 90kVA (115/200V) power factor 1
NEMA 4 enclosure
Operating temperature -40°C to +56°C (-40°F to 132°F)
Noise Level: <65 dB(A)@1m
ITW GSE user interface with Digital control panel
Dimensions: 60.2″(L) x 34.3″(W) x 35.4″ (H)
Weight: 1,543 LBS.
(See data sheet for further information)
Spec Numbers
AP-577420 (90kVA Power Coil UL (US use))
AP-577410 (90kVA Power Coil CE (European use))
Compares To
Common Spares
AE0102 – Frequency Converter
RE4421 – Relay
578100 – Power Module 90 kVA
AF0267 – Main Switch
AF0249 – Breaker Handle
AF0259 – Shaft for Main Switch
PS0010 – DC Power Supply
DO0222 – Circuit Breaker
579526 – GSE Control Board
579527 – Interface Board
579532 – Capacitor Board
IT0032 – Current Transformer
KP7087 – Capacitor
KO4382 – Contactor
579425 – Output RFI Board
277415 – Stop Ring
274031 – Strap and Buckle for Relief
277425 – Locking Brick for Ring
AM0131 – Air Filter
277406 – Clamp for Cable
277408 – Bearing for Drum
277036 – Rubber Gasket for Quirl
277029 – Flange for Quirl (Motor)
GM0002 – Worm-Gear Motor
AM0170 – Slot Steel for Axle
291315 – Quirl Cable (Coil)
AF0501 – Limit Switch
277416 – Filter Frame Outlet
VN0017 – Fan
SI2076 – ATO Fuse
SI2075 – ATO Fuse
SI2066  -ATO Fuse