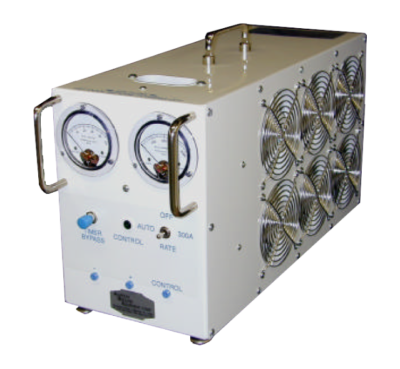 DCLB-28 Portable 1500 AMP 28.5 VDC Resistive
Description
The DCLB-28 28.5 VDC Portable Load Bank is designed to provide a temporary load for field servicing and testing 28.5 volt ground power units. It is air cooled and completely self-contained. The DCLB load bank provides continuous loads at 300AMP load and a 1500AMp. The load bank is also able to simulate an aircraft start by starting off at 0AMP's increasing to 1500AMP's in 35 seconds.  All Aviation Ground Equipment Load Banks are proudly made in the USA.
REQUEST A QUOTE
Features & Options
Data Sheet
Features
300A continuous load
1500A decreasing load
Timer bypass switch
Plug Test pins for connecting test leads
Control circuit indicator for testing plug
Meters: 0-50V voltmeter, 0-1600A ammeter
Thermal protection
Folding handle
Carrying case
Dimensions: 20"L x 8"W x 11"H
Weight: 43 lbs.