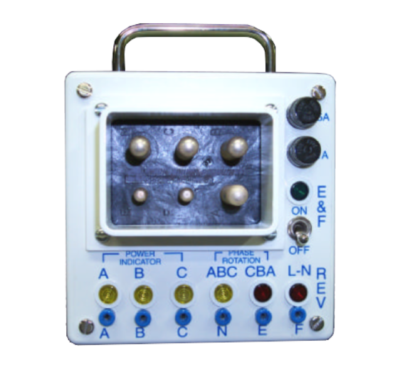 ACPT-4 Cable Tester 115/200 VAC 400Hz
Description
The ACPT-4 is a 400Hz cable tester designed to test the power cables for proper connections and phasing. It is equipped with a standard aircraft receptacle and a 28V interlock circuit to simulate connection to an aircraft. The Cable tester allows the user to test each individual phase the aircraft cable as well as the E&F (28v) interlock circuit with easy to use multi meter ports and light indicators.
REQUEST A QUOTE
Features
Standard aircraft receptacle
28V TR to provide voltage for interlock circuit
Power indicator lights
Phase rotation indicator
Line and neutral revered
Indicator E & F circuit indicator
Plug test pins for connecting test leads
Folding handle
Dimensions: 8"L x 8"W x 6"H
Weight: 8 lbs.